Spatial Orientation Test
A Spatial Orientation test assesses your spatial awareness and ability for reading and using simple maps for navigation. While a spatial orientation test is not the same as a spatial ability test, a well-developed spatial awareness/ability is essential in order to perform well.

What questions can I expect?
In a spatial orientation test you must follow directions based on a map or street plan.

Where are Spatial Orientation tests used?
These questions often appear in tests for emergency services, military, and law enforcement jobs.

How to prepare
Prepare by taking practice test questions, it will give you the proper knowledge, skills and confidence you need in order to preform well on your test.

Are you preparing for a Firefighter Test? We offer preparation material for your firefighter academy entrance test, read more here.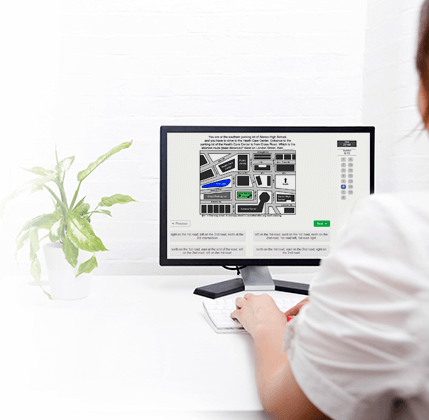 Practice Spatial Orientation Test
Try a free Spatial Orientation Test.
This free practice test contains 6 test questions and has a time limit of 3 minutes.

Would you like to improve your test score? Practice smart with a Test Prep Account.
Practice on 50 Spatial Orientation test questions and 1700 other aptitude test questions with detailed description and score statistics.
The many features of a Test Prep Account:
Preparation software developed under a didactic and methodical perspective
High-quality practice test questions
Clearly explained solutions
Accessible on all devices
Detailed score data and progression charts
Reference scores to compare your performance against others
Training Assistant
Practice mode (feedback after every question and no time limit)
Learn more or sign up now to get instant online access 24/7 to your personal Test Prep Account.