Non-Verbal Aptitude Test
Non-Verbal Aptitude, also called non-verbal reasoning, involves the ability to understand and analyze information presented visually and solve problems logically.

Non-verbal aptitude tests are used extensively in selection and assessment processes. The tests include no text and can therefore be considered as less biased than text-based questions, as language and cultural differences are no factor.

What questions can I expect?
There are several types of non-verbal aptitude test questions, the most common questions are divided into three categories. Click a category to learn more.

Where are Non-verbal Aptitude tests used?
Non-verbal reasoning tests are often used when assessing for graduate and management roles. Spatial ability is commonly used for more hands-on occupations such as mechanics, assembly line workers, and pilots.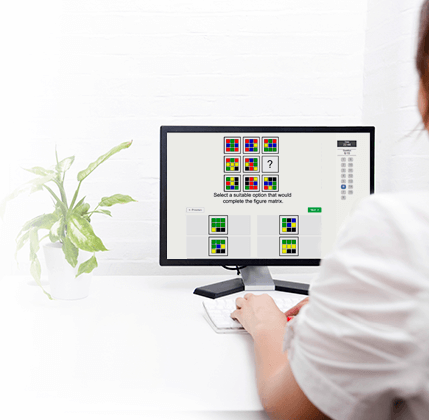 Practice Non-Verbal Aptitude Test
Try a free mixed Non-Verbal Aptitude Test.
This free practice test contains 15 test questions and has a time limit of 10 minutes.

Would you like to improve your test score? Practice smart with a Test Prep Account.
Practice on 550 Non-Verbal Aptitude questions with detailed description and score statistics.
The many features of a Test Prep Account:
Preparation software developed under a didactic and methodical perspective
High-quality practice test questions
Clearly explained solutions
Accessible on all devices
Detailed score data and progression charts
Reference scores to compare your performance against others
Training Assistant
Practice mode (feedback after every question and no time limit)
Learn more or sign up now to get instant online access 24/7 to your personal Test Prep Account.