Grammar & Spelling Test
A grammar and spelling test measures your ability for and knowledge of correct grammar and spelling usage.

What questions can I expect?
Questions can be in many different formats, but will normally be multiple choice.

Question formats can be:

Choose the correct word missing in a sentence. The words may be spelled differently or written in different tenses.
Select the correctly spelled word from four or more options.
Four or more sentences are given – choose the sentence that is grammatically correct.
Find the grammar or spelling error in a sentence.
Insert the correct punctuation in a given sentence.
Where are Grammar and Spelling tests used?
Grammar and spelling tests are often found as part of a Verbal Ability test. You may encounter such tests when applying for jobs where English language skills are essential, such as clerical workers, customer support representatives, receptionists, marketing employees, and more.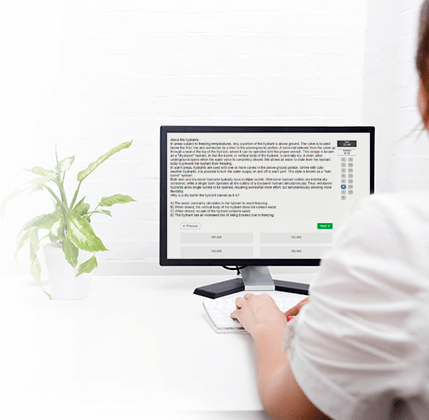 Practice Grammar & Spelling
Try a free verbal skills test.
This free practice test contains 10 verbal skills test questions and has a time limit of 5 minutes.

Would you like to improve your test score? Practice smart with a Test Prep Account.
Practice on 105 Grammar & Spelling questions and more than 840 other verbal aptitude questions with detailed description and score statistics.
The many features of a Test Prep Account:
Preparation software developed under a didactic and methodical perspective
High-quality practice test questions
Clearly explained solutions
Accessible on all devices
Detailed score data and progression charts
Reference scores to compare your performance against others
Training Assistant
Practice mode (feedback after every question and no time limit)
Learn more or sign up now to get instant online access 24/7 to your personal Test Prep Account.