Revelian Abstract Reasoning Test
The abstract reasoning test assesses your ability to solve conceptual problems by identifying relationships and analyzing patterns.

The test consists of 32 questions within a time limit of 10 minutes.

The questions in this category are similar to the abstract questions in the Revelian Cognitive Ability Test (RCAT).

You will be presented with 5 – 6 graphical elements. You have to identify patterns in these elements in order to find one or two elements that are different from the rest.


Example: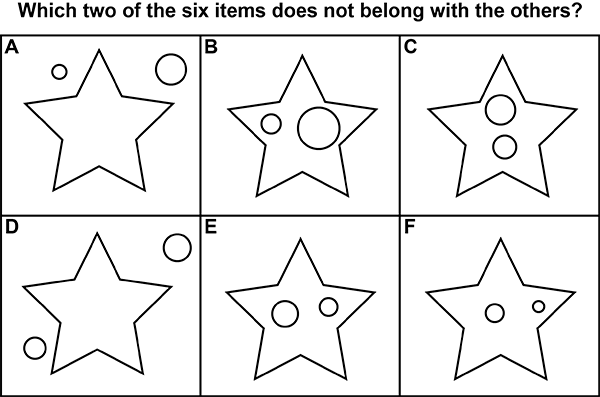 The correct answer is item A and D. In all other items, the two circles are located within the star.
Our Revelian Test Prep package includes a total of 540 practice test questions, and all question types are included. Get access now.
Try our free Revelian Cognitive Ability practice test.
Free Practice Test
Aptitude-test.com is not affiliated with Revelian. Revelian and other trademarks are the property of their respective trademark holders.