Mechanical Reasoning Test
Mechanical Reasoning (also called mechanical comprehension) is the ability to understand mechanical and physical concepts. Learning and understanding these concepts is essential for success on tests of mechanical Reasoning.

Mechanical Reasoning test questions are the most commonly used test questions in mechanical aptitude tests.

What questions can I expect?
Questions will challenge your understanding of basic physical principles and mechanical concepts. Subjects may include (but are not limited to):
Pulleys
Gears
Springs
Levers
Balancing Scales
Gravity
Acceleration
Hydraulics
Weights
Magnetism
Energy Types
Friction
Pressure
Our practice tests will introduce you to most, if not all, types of mechanical Reasoning questions.
Where are Mechanical Reasoning tests used?
These tests are frequently used as pre-employment assessments for occupations requiring basic mechanical understanding. These occupations include: mechanics, machine operators, millwrights, line assembly workers, electricians, and more.
Popular Mechanical Reasoning Tests
The most frequently used mechanical Reasoning tests are the Bennett Mechanical Reasoning Test, Wiesen Test of Mechanical Aptitude, and the Ramsay Mechanical Aptitude Test.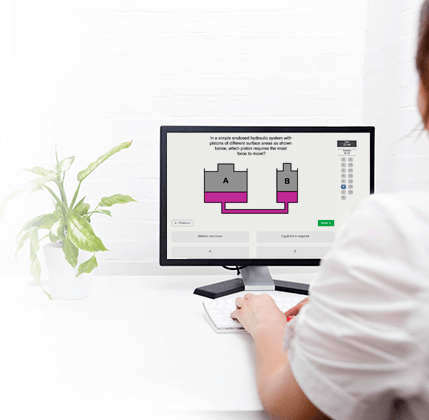 Practice Mechanical Reasoning Test
Try a free Mechanical Reasoning Test.
This free practice test contains 6 test questions and has a time limit of 4 minutes.

Would you like to improve your test score? Practice smart with a Test Prep Account.
Practice on 100 Mechanical Reasoning and more than 100 other mechanical aptitude test questions with detailed description and score statistics.


The many features of a Test Prep Account:
Preparation software developed under a didactic and methodical perspective
High-quality practice test questions
Clearly explained solutions
Mechanical Test Study Guide
Accessibile on all devices
Detailed score data and progression charts
Reference scores to compare your performance against others
Training Assistant
Practice mode (feedback after every question and no time limit)
Learn more or sign up now to get instant online access 24/7 to your personal Test Prep Account.