Mechanical Knowledge Test
Mechanical Knowledge questions assess your knowledge of basic physics and (auto) mechanics.

While they are not as common as the Mechanical Comprehension questions, they can be found in the same test. Where mechanical comprehension determines your understanding of mechanical and physical concepts, mechanical knowledge evaluates your theoretical knowledge of the same. However, it is also common that a mechanical knowledge test will assess your knowledge of basic auto mechanics as well – this depends on the job you are applying for.

What questions can I expect?
You can expect questions about basic physics and mechanics. Question subjects included may be:

Auto Mechanics:

Four-stroke engines
Hydraulics
Brakes
Engine oil
Battery
Other fundamental knowledge

Energy types
Acceleration and momentum
Mechanical advantage
Effort
Friction
Gravity
Compression
Where are Mechanical Knowledge tests used?
These tests are mostly used as school admission tests. Schools which apply these type of tests are primarily auto mechanic schools.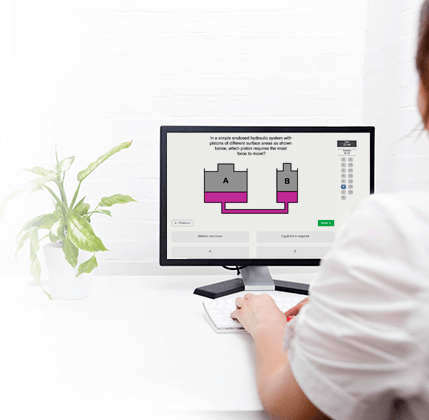 Practice Mechanical Knowledge Test
Try a free Mechanical Knowledge Test.
This free practice test contains 6 test questions and has a time limit of 3 minutes.

Would you like to improve your test score? Practice smart with a Test Prep Account.
Practice on 50 Mechanical Knowledge and more than 180 other mechanical aptitude test questions with detailed description and score statistics.


The many features of a Test Prep Account:
Preparation software developed under a didactic and methodical perspective
High-quality practice test questions
Clearly explained solutions
Mechanical Test Study Guide
Accessible on all devices
Detailed score data and progression charts
Reference scores to compare your performance against others
Training Assistant
Practice mode (feedback after every question and no time limit)
Learn more or sign up now to get instant online access 24/7 to your personal Test Prep Account.