Code Breaking Test
Code Breaking test questions assess your ability to see patterns and think logically. In code breaking questions you are first given a coded message and the same message decoded. You are then given another coded message which you are required to decode.


Example:
If
%#1 = ALF
then
%#&/% = ?

Answer Options:
A: ALONE
B: ALPHA
C: ADORE
D: ALERT

Solution:
Looking at the coded and decoded message, we can decode the following characters to:
% = A, # = L, 1 = F
So, we now decode the message to say: AL&/A
We cannot yet decode the characters "&" and "/." However, looking at the answer options, only answer option B starts with "AL" and ends with "A." Therefore, answer option B must be correct.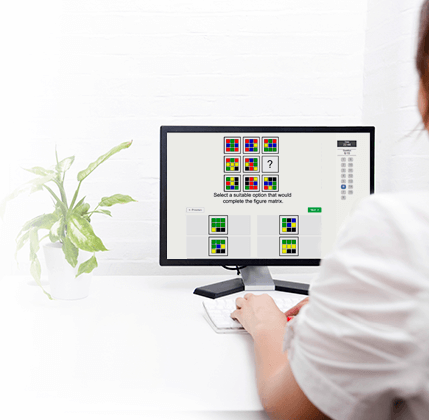 Practice Code Breaking Test
Try a free Code Breaking Test.
This free practice test contains 5 test questions and has a time limit of 5 minutes.

Would you like to improve your test score? Practice smart with a Test Prep Account.
Practice on more than 1700 aptitude test questions with detailed description and score statistics.
The many features of a Test Prep Account:
Preparation software developed under a didactic and methodical perspective
High-quality practice test questions
Clearly explained solutions
Accessible on all devices
Detailed score data and progression charts
Reference scores to compare your performance against others
Training Assistant
Practice mode (feedback after every question and no time limit)
Learn more or sign up now to get instant online access 24/7 to your personal Test Prep Account.